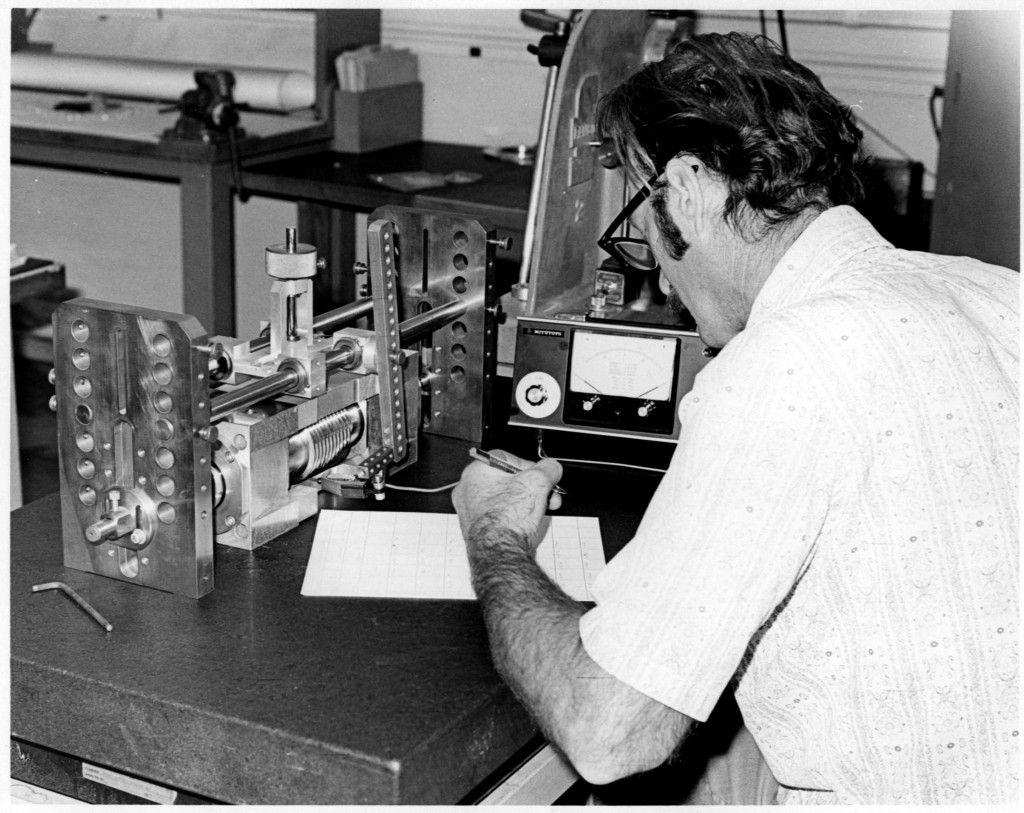 Bill De Boynton of Boller and Chivens is pictured testing a 24-inch telescope primary worm assembly.
Don Winans of Boller and Chivens designed and implemented this primary worm inspection testing device.
All Boller and Chivens telescope primary worm shafts blanks were hardened and precision ground. Each worm shaft was checked by Boller and Chivens inspection to be sure that the worm bearing diameters and the worm profile was concentric within 0.00010 TIR.
An additional inspection check was made determining that the worm helix lead tracking profile was uniform without any "drunkenness" to it.
Any "drunkenness" would show up as a blurring image when tracking an object.
All primary worm shaft ball bearings were purchased to the highest class that was available for concentricity with zero cam action.
All Boller and Chivens telescopes made "in plant" actual star observations. Each telescope would purposely be offset in its polar axis alignment with a slight base position rotation from true North.
Any stars image would then appear as a trail in the telescopes Right Ascension motion because of the telescopes misalignment.
While tracking a bright star, its image would be recorded on a glass photo plate. The stars image trail recorded on the plate should be a straight line determining the primary worm helix was linier and the mounting ball bearings did not introduced any cam action to the worm shaft.
The photo plate was then projected through an optical comparator and if the star trace was not undulating in each turn of the primary worm shaft, the telescope was determined to be tracking accurately.
The photo plate record was furnished to each telescope customer.
Inspection for worm helix uniformity "drunkenness" lead tracking profile or bearing cam action with a 0,00010 electronic Dial-indicator.