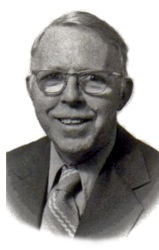 Clyde Cuthbertson Chivens
Biography
Born February 26, 1915 – Dallas, Texas?
Died: February 28, 2008
Married: Dorothy Hadsell June 30, 1936
Son: Donald Chivens  – Wife:- Martha
Grandson: Daniel Chivens – Wife – Krys
Great-grandson: Kurtis Chivens
Great-grandson: Tyler Chivens
Grandson: Thomas Chivens – Wife – Kate
Great-granddaughter: Kathryn Dickenson Rolin
Son: David Chivens – Wife – Lee
Grandson: Glen: Chivens
Granddaughter: Julie Chivens
Son: Allen Chivens
Clyde Chivens Graduated from California Institute of Technology (Cal Tech), with a Bachelors in Mechanical Engineering, June 1935.
Clyde's first job after graduation was working for a company developing centrifugal pumps.
In 1938, Clyde and his wife Dorothy moved to Cincinnati, Ohio. Clyde went to work for Cincinnati Milacron Co, running tests on centrifugal pumps.
In 1941, Clyde moved back to Southern California and started working for Fred C. Henson Company in Pasadena, who made scientific instruments.
Clyde consulted in the Office of Scientific Research and Development during World War II.
In 1946, Clyde partnered with Harry Boller starting a company naming it Boller and Chivens in South Pasadena, California for manufacturing scientific instruments.
Harry and Clyde were also associated in a firm called High Vacuum Electronics in 1964.
Boller and Chivens was purchased and became a division of Perkin Elmer Corp. in 1965.
Clyde retired from Perkin Elmer in 1983.
Clyde's family residence was in Pasadena, California, and then later at Emerald Bay in Laguna Beach, California.
Later after his retirement he moved to San Luis Obispo, California to be near his sons Don and Dave.
Throughout his life, his wife, and his three boys were avid campers and active with Boy Scouts.
The family traveled in a 1959 Chevrolet convertible to Alaska on the new Al-Can highway when it first opened to the public in the 1960.