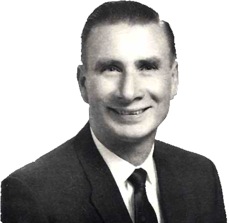 Harry Berthold Boller
Biography
Born: February 16,1915 – Pittsburgh, Pennsylvania
?Died: September 1, 1997
Married: Gertrude Clare Solleder February 14,1940
Son: Carl Edward Boller – Wife: Janet
Grandson: Eric ?
Granddaughter: Tracy – Husband: James Perkins
Son: William Allen Boller – Wife: Holly
Granddaughter: Jennifer
Granddaughter: Hillary
Grandson: Mathew Boller
Daughter: Mary Boller Southard
Harry Boller graduated from California Institute of Technology (Cal Tech) with a Bachelor's degree in Mechanical Engineering, June 1938.
Harry worked at Cal Tech's Hydro-Lab as a Associate Mechanical Engineer designing instruments and research machinery as well as supervising the construction and operation of such equipment.
Harry went to work at Byron Jackson Co. as a Mechanical Engineer & Designer, from 1940 to 1941 designing tools and equipment for oil wells.
Harry worked C. F. Braun as a Mechanical Engineer and Designer, from1941 to 1946.
In 1946, Harry partnered with Clyde Chivens starting a company naming it Boller and Chivens in South Pasadena, California for manufacturing scientific instruments.
Harry, and his wife Gertrude, purchased their first home in Alhambra, California. They purchased their second home in South Pasadena, California to be near Harry's new business.
Harry and Clyde were also associated in a firm called High Vacuum Electronics in 1964.
Boller and Chivens was purchased and became a division of Perkin Elmer Corp. in 1965.
Harry retired from the Boller and Chivens Division of Perkin Elmer in 1966. He moved to his final home in Naples, California where his wife, Gertrude, still lives.
After retiring, Harry could now work in his well-equipped workshop and follow his many interests.
Throughout his life Harry was an avid skin diver along with being an accomplished sailor.
One of Harry's good friends was Ralph Larabee, owner of L & F Machine Co., in Huntington Park, California. L & F became the principle fabricating shop for all Boller and Chiven's large telescopes and weldments.
Harry, with Ralph Larabee, also co-owned a commercial tuna fishing boat named Cyvones.
Ralph Larabee was also owner of a 165 foot sailing schooner called the Goodwill.
Harry spent much of his time maintaining different items requiring his technical skills such as servicing the autopilot with his navigational skills, which became significant on a sailing schooner of this size.
Harry owned a 110-acre ranch near Bakersfield, California, that raised beef cattle. Mary, his daughter, managed the ranch.
Harry made a one and only parachute jump on May 21, 1970.